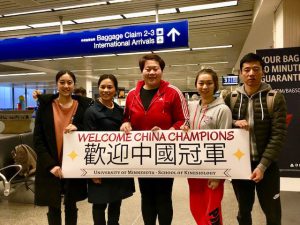 The School of Kinesiology and the University of Minnesota welcome this year's China Champions, the fourth cohort of world-class athletes from China traveling to the U.S. to experience a year of study at the University of Minnesota.
This year's students include a gymnast, two judokas, a race walker, and a rhythmic gymnast. The athletes won championships spanning national, international and Olympic competitions. Most of the athletes have completed their competitive careers and now work in the China Sport Administration or are coaches.
During the year, the China Champions will attend specially designed courses in the School of Kinesiology, including academic seminars, workshops, and classes in English as a Learned Language. Athletes will also visit Minnesota cultural sites and become familiar with the Twin Cities. The China Champions are available to visit classes around the U and share their personal experiences in training and achieving elite world championship status in their sport.
"The China Champions Program has been a truly wonderful partnership between University of Minnesota and Beijing Sport University," says Jean Quam, dean of the College of Education and Human Development. "With each year, the program strengthens our international relationships and the University's global visibility and collaboration."
The University of Minnesota hosts the annual China Champions Program (CCP) to foster an exchange of culture, education and sport. Led by the School of Kinesiology in collaboration with Beijing Sport University and supported by the China Scholarship Council, CCP is a unique global collaboration that provides mutual benefits for Chinese athletes and University faculty, staff and students.
Read about these China Champions accomplishments.