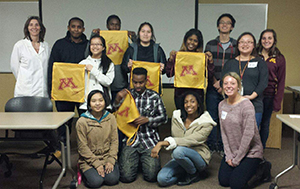 Bao Moua, research administrator, and the research lab staff of Bonny Donzella, Lea Neumann, and Tori Simenec in the Gunnar Lab at the Institute of Child Development, organized a Career Day for students at the Brooklyn Center IB World School recently. Moua was contacted by school staff in hopes that she might be able to assist students in the Get Ready Program by letting them shadow her in her work in the lab. "I wanted to show the students there's other non-traditional options in the medical, science, or health field that they can explore."
From there, the lab staff decided to set up a Career Day with students from the World School. Students came to the Center for Neurobehavioral Development and spent about an hour and a half learning about how the Gunnar Lab conducts its research. The students were split into groups and then rotated among 3 stations to see demonstrations. Students learned about the Trier Social Stress Test and how it makes a person's body feel and the ethics of challenge, specifically voluntary participation. They were also shown how the lab collects saliva samples. Then students were shown the Bod Pod machine (and could also experience being in it), which measures body mass using air displacement, and then shown how it's used to learn about physical growth of children. Finally, the students learned about the EEG hat and brain activity. They were able to help with the EEG hat sensors and see what brain waves look like compared to muscle movement. The lab members also talked about what positions they held in the lab, how they trained for this job or position, and what education they needed to do this kind of work. The Get Ready program prepares 5th – 12th graders for college and makes students aware of various Twin Cities college campuses and career choices. The Get Ready Program works with St. Paul, Minneapolis, and Brooklyn Center schools with underrepresented populations and low-income families.
Serena Wright, in the dean's office, donated CEHD bags, lanyards, and an ID wallet. "The students were very enthusiastic about the demonstrations and also loved the CEHD swag!" Moua said.