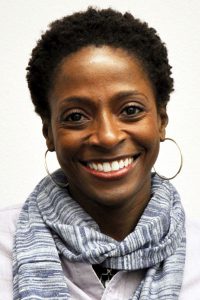 The School of Kinesiology is proud to announce that Daheia Barr-Anderson, Ph.D., faculty member and director of the Behavioral Physical Activity Laboratory (BPAL), has been selected as a University of Minnesota McKnight Presidential Fellow.  This three-year fellowship, presented by the American College of Sports Medicine (ACSM) Board of Trustees, is awarded to mid-career faculty and recognizes significant scholarly accomplishments. The award provides resources for research or scholarly activities.
Dr. Barr-Anderson's research interests focus on physical activity, sedentary behaviors, and obesity prevention in children and adolescents, with emphasis on home- and community-based environmental interventions that incorporate both physical activity and nutrition to achieve healthy outcomes and to decrease racial/ethnic health inequalities. She has been the Principal Investigator on grants from the General Mills Foundation, Robert Wood Johnson Foundation, and NIH Building Interdisciplinary Careers in Women's Health (BIRCWH) program, and Co-Investigator on several NIH R01 grants.
Barr-Anderson is one of five newly tenured faculty members at the University to receive this  prestigious award. Congratulations, Dr. Barr-Anderson!