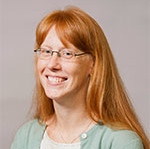 Barbara Billington, a science lecturer in the Department of Curriculum and Instruction, will collaborate with University of Minnesota colleagues and educational technology company Andamio Games on a project funded by the National Science Foundation to produce a series of tablet-based lessons and challenges to help high school students master concepts related to photosynthesis and cell respiration. This project will enable students to learn difficult science concepts using a collaborative gaming approach that aims to significantly increase student engagement and understanding.
As part of the grant, Billington will partner with life science teachers from Saint Paul Public Schools to conduct a classroom study in the second year of the project. Lessons will be designed and research directed by both Billington and her colleagues Sehoya Cotner, associate professor in the College of Biological Sciences, and Christopher Desjardins, research associate at the Center for Applied Research and Educational Improvement.
"Science teacher feedback in Phase I of the project reconfirmed the value of our multi-player approach and also led us to the addition of a virtual biology lab," said Andamio Games president Adam Gordon. "Teachers wanted their students to get a practical experience of scientific experimentation — including when it doesn't go quite as expected — independent of the usual costs and time commitments for conventional lab experiments."
Billington has a unique understanding of science classrooms after seven years teaching high school biology. She earned both her teacher licensure and Ph.D. in science education from the Department of Curriculum and Instruction, where her current research focuses on training pre-service teachers and gender equity in STEM education.
Find out more about the science education programs in the Department of Curriculum and Instruction.