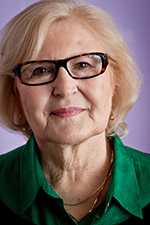 In an interview with NPR, Department of Family Social Science professor emeritus Pauline Boss said there is no such thing as "closure" when relationships end.
This  month NPR featured Boss in a segment of On Being with Krista Tippett titled "The Myth of Closure."
According to the Orlando Sentinel,  Boss placed emphasis on the importance of remembering loved ones, and that actively trying to "get over" a death or failed relationship often prevents people from being able to do just that.
Boss also praised CNN anchor Anderson Cooper for putting "closure" in its proper place in the media when interviewing survivors and family members after tragedy.
"I know from his own biography that he knows what loss is, and he understands that there is no closure. He's the only reporter I've ever heard explain that in the line of his work, and I think the rest of us have to do a better job of it, too."
Boss coined the term "ambiguous loss" for her pioneering research on what people feel when a loved one disappears. However, she says, "We have to live with loss, whether clear or ambiguous, and it's okay."
Listen to "The Myth of Closure" on NPR here.
Read the Orlando Sentinel article here.
Learn more about Pauline Boss and her research interests here.