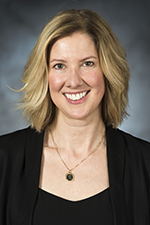 Stephanie M. Carlson, Ph.D., professor and director of research in the Institute of Child Development, has been awarded the Distinguished McKnight University Professorship, which honors the University of Minnesota's highest-achieving mid-career faculty. Carlson is an internationally recognized leader in the study of executive function.
As a Distinguished McKnight University Professor, Carlson will receive a $100,000 grant for research and scholarly activities, and carry the title throughout her University career. Carlson is one of six University professors receiving the award in 2017. Three CEHD professors have earned the award previously, including Frank Symons of educational psychology, and Megan Gunnar and Ann Masten, both in the Institute of Child Development.
Through her research, Carlson has developed innovative ways of measuring executive function – or the set of skills that helps individuals pay attention, control impulses and think flexibly – in very young children. She has also made discoveries about the role of executive function in other aspects of human development, including decision-making and creativity.
Her accomplishments include co-developing the Minnesota Executive Function Scale (MEFS), a testing app that measures executive function and early learning readiness in children. The MEFS is the only early learning readiness assessment measuring executive function that can be used with children as young as two years old. To help put the tool in the hands of early educators, she co-founded the tech start-up Reflection Sciences and now serves as its CEO.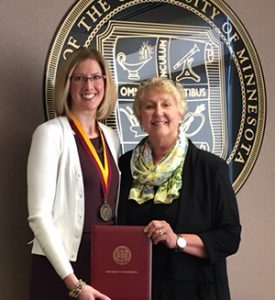 "Stephanie Carlson not only has conducted ground-breaking research that has advanced the field of cognitive development, but she also has developed practical tools for early educators," said CEHD Dean Jean Quam. "She is an engaged professor, researcher and mentor to her students, and an outstanding asset to the college."
Carlson and the other winners of this year's Distinguished McKnight University Professorships will be recognized at the May Board of Regents meeting and honored at a celebratory dinner.