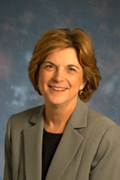 Martha Thurlow, director of the National Center on Educational Outcomes (NCEO) in the college's Institute on Community Integration (ICI), has been selected to receive the Council for Exceptional Children's (CEC) J. E. Wallace Wallin Lifetime Achievement Award for 2015. The award will be presented to her during an awards ceremony
on April 8 at the CEC 2015 Convention & Expo in San Diego.
"This award recognizes an individual who has made continued and sustained contributions to the education of children and youth with exceptionalities," according to CEC.
In 1990, Dr. Thurlow was part of the team that founded NCEO, a research center that provides national leadership in designing and building educational assessments and accountability systems that appropriately monitor educational results for all students, including students with disabilities and English language learners (ELLs). From 1990 to 1999, she worked as an assistant and associate director for NCEO and in 1999 became its director, a role she has maintained for the past 15 years.
In a nomination letter for the award, ICI director David R. Johnson observed, "For the past 40-plus years, Dr. Thurlow has established herself as one of the pillars of special education services in the United States. She has amassed a body of research and professional publications that has served to influence and guide public policy and professional practice. Her work has influenced the U.S. Congress, the U.S. Department of Education, state legislatures, state education agencies, institutions of higher education, and schools throughout the nation. Dr. Thurlow is one of those rare academics who is able to comfortably integrate research, policy, and practice, to achieve broad levels of impact on the life circumstances of children with disabilities and their families."