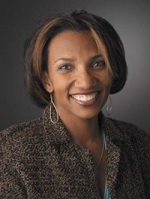 Cultural Community Processes: Resources for Reasoning through Texts
Thursday, November 17, 2011 | 4:00 – 5:30 PM
Room R380, Learning & Environmental Sciences, St. Paul Campus
Join us for an afternoon session of the MCRR Brown Bag Discussion series.
Dr. Yolanda Majors, visiting Associate Professor of Curriculum & Instruction, will present and answer questions.
Majors says, "In this presentation, I present a cultural context view of literacy. I argue that, when leveraged within a classroom, literacy from this perspective can provide an alternative space that structures opportunities for all students to sort through their real life dilemmas as well as work through the academic tasks they are expected to take up. Research that acknowledges students' literate problem-solving and problem posing processes as culturally situated under-scores and challenges the dominant theme in education that either (1) views students' cultural practices (e.g., ways of speaking, communicating, listening, responding) as deficits rather than as resources, and (2) tends to link popular culture practices, such as rap and hip-hop music, to classroom practices without making explicit how and where such links occur."
Please visit the MCRR Events page for more information about upcoming events.