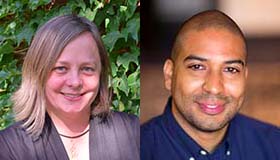 Teaching Specialist and Licensure Program Lead for English Education Abby Rombalski and Postdoctoral Associate Justin Grinage of the Department of Curriculum and Instruction were recently selected for the 2018 Curriculum Inquiry Writing Fellowship and Writer's Retreat. The award supports advanced doctoral students, recent graduates, and junior faculty who are contributing to new directions in curriculum studies, particularly those that emphasize critical, anti-oppressive, decolonizing, Indigenous, queer, disability, or other approaches that interrupt normative approaches to curriculum.
During their time at the retreat, scholars will work with faculty and members of the Curriculum Inquiry editorial team to develop a manuscript that will be considered for publication in the Curriculum Inquiry Journal. Rombalski and Grinage will travel to Toronto in June for the writing program along with six other winners.
Learn more about research in the Department of Curriculum and Instruction.