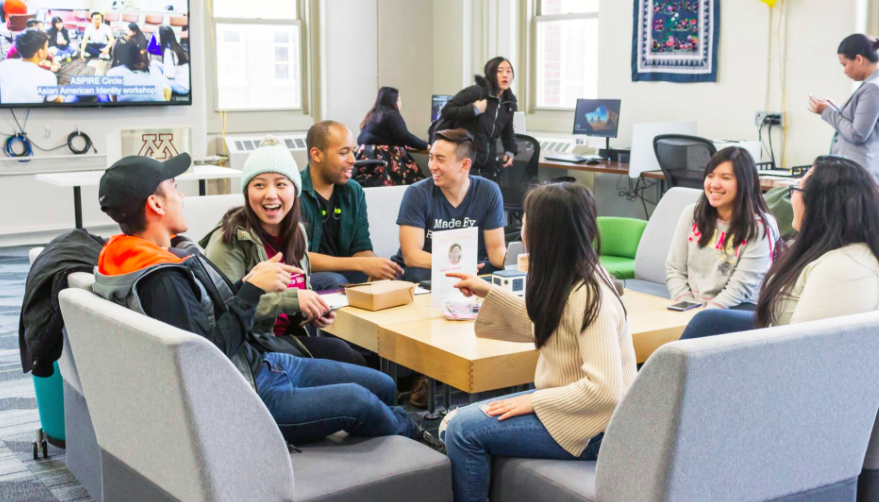 Did you know that Asian American and Pacific Islander (AAPI) students are the largest minority group on the UMN Twin Cities' campus? They make up fully 10 percent of the student population, and up until last year, there were no specific university resources geared towards those students. That has recently changed with the opening of the Asian American and Pacific Islander Resource Center (APARC), which recently moved to brand new space in Appleby 311 and is welcoming drop-ins.
The center is funded by a U.S. Department of Education grant received by Bic Ngo, an associate professor in the Department of Curriculum and Instruction, and Josephine Lee,  a professor in the College of Liberal Arts. APARC fills a need on campus to create a space for AAPI students to reflect on their identities, develop their voice, find community and academic support. APARC Program Director Kong Her explains that "What we've been hearing from students is they feel they're not being heard. [Asian American students] have different challenges that are often not acknowledged by the institution and need different resources than the very broad services multicultural student services provide."
Program Coordinator Peter Limthongviratn further explains that AAPI students often are not valued in racial discourse. "Some students feel their struggle is not seen as a real struggle and that they don't belong in students of color spaces. APARC is important because it provides a dedicated space and resources to affirm their struggle while providing help and support."
Ngo emphasizes that the AAPI population in the UMN Twin Cities campus is uniquely in need of support because the students "reflect the state's large AAPI population, which has the greatest concentration of AAPI in the U.S. interior, including the largest urban Hmong population in the world at 64,442. The state's AAPI population is strikingly different from that of the U.S. as a whole, with 50.2 percent of them identifying as Southeast Asian. This is significant, because this means half of the AAPIs in Minnesota are refugees or children of refugees. Census data shows that Southeast Asian Americans have among the highest poverty rates and lowest educational attainment rates."
APARC is hoping to establish a relationship with the large Asian American community in the Twin Cities, especially the Hmong population. Her explains, " In the Hmong community, the university is a renowned institution. Being able to establish APARC as resource center to support Hmong students strengthens that community connection."  This can help establish trust with students and families that they will be welcomed at the university and thrive here.
The center supports Asian American students by focusing on three areas: academic support, identity affirmation, and community. APARC provides AAPI tutors and writing consultants for who can relate to the AAPI experience.  For instance, they often run into specific issues with AAPI students who feel torn between school and obligations at home. Often, people who are not AAPI don't understand the obligation to family. They work with students on how to handle the pressure of family and communicate effectively with advisors and instructors.
APARC also helps students examine their AAPI identity through workshops, retreats, and lectures. "We want students to think about how to connect their identity to future careers and opportunities," adds Limthongviratn.
The other area the center focuses on is cultivating a welcoming community for all AAPI students. "There was a disconnect of AAPI communities on campus," says Her.  "All the students groups are pocketed; Everyone does their own thing. There was a need to come together and create one whole community and that's what we are trying to do."
To find out more about the services APARC provides or upcoming events, you can find them online, follow them on Facebook, or stop by the new center at Appleby 311.