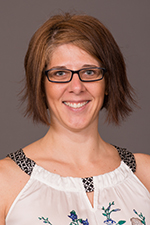 The Center for Education Innovation's (CEI), Thank a Teacher program allows students to provide unsolicited feedback by sending thank you notes to teachers who make a positive difference on their achievement and development. Dr. Rose Vukovic, director of undergraduate studies and associate professsor in the special education program continues to impact students' lives. Recently, she received an official letter from CEI with a "thank you" note from a former student.
The note reads:
"Hello, Dr. Vukovic!
I'm writing to thank you for all of your support and encouragement when I was taking your class, EPSY 2601, in Spring 2015. You encouraged me to do the Blind Inclusion in group work presentation to help my classmates know how to interact with me. That was a small presentation, and I just finished studying English.
I'm happy to inform you that now I have developed 3 big trainings on how to interact with people with visual impairments, starting with access assistants, then one for professors, and now I'm working on one for students in college-level settings to help everyone take an action to make people with disability feel included in this university. I may not have done all of these projects if you had not given me the chance to present in class.
You saw my strengths even though I just finished studying English and my grammar writing wasn't too strong. I would like to thank you so much for everything you have done for me. I will never forget how you inspired me. A huge thank you for you and wishing you all the best!
– Roqayah"
Have you had a teacher that has made a difference in your education? Thank them here.