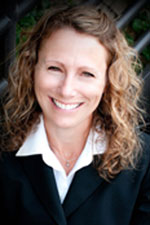 Tucker Center co-director and Kinesiology senior lecturer Nicole LaVoi, Ph.D., was a guest speaker at this year's Haverford Group spring meeting held March 25-27 at Macalester College in St. Paul.
LaVoi spoke on the topic, "Women in Coaching and Team Culture."
The Haverford Group was created in the mid-1980s to bring together an influential group of academic institutions concerned with the positive influence, thinking and direction of NCAA Division III athletics. Members include Amherst College, Austin College, Bridgewater College, Bryn Mawr College, Centre College, Clark University, DePauw University, Grinnell College, Haverford College, Lewis & Clark College, Macalester College, Occidental College, Pomona-Pitzer College, Skidmore College, Smith College, Swarthmore College, Washington & Lee University, Wellesley College, Wesleyan University, Whitman College and The College of Wooster.