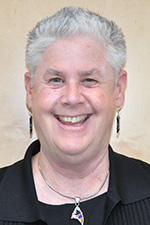 An independent evaluation study by Maureen Weiss, Ph.D., professor in the School of Kinesiology, shows that Girls on the Run, a national physical activity-based positive youth development program for elementary-age girls, has a profound and lasting positive impact on girls' confidence, competence, connection to others, character, caring, and life skills.
Girls on the Run is a nonprofit organization that uses running as a vehicle for teaching life skills to girls in third through fifth grades. The intentional life skills curriculum and mandatory annual coach training set Girls on the Run apart from other activity programs. The three-part curriculum teaches understanding of self, valuing relationships and teamwork, and exploring one's connection to the world.
Weiss's study revealed that:
Girls on the Run participants were significantly more likely than girls in organized sport and physical education to learn and use life skills including managing emotions, resolving conflict, helping others or making intentional decisions.
97% of girls said they learned critical life skills at Girls on the Run that they are using at home, at school and with their friends
Girls who began the program with below-average scores dramatically improved from pre- to post-season on all outcomes—competence, confidence, connection, character, and caring. This shows that girls who might need a positive youth development program benefited most from their participation.
Girls who were the least active before Girls on the Run increased their physical activity level by 40% from pre- to post-season and maintained this increased level beyond the program's end.
The video and the website illuminate the study findings through an interactive format. The study has also been publicized on Globe Newswire.
"Girls on the Run participants scored higher in managing emotions, resolving conflict, helping others, and making intentional decisions than participants in organized sport or physical education," said Weiss.  "Being able to generalize skills learned in the program to other situations such as at school or at home is a distinguishing feature of Girls on the Run compared to traditional youth sports and school PE, and suggests that the intentional life skills curriculum and coach-training program can serve as exemplars for other youth programs."