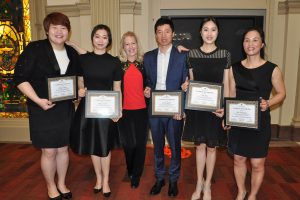 Participants in the fourth annual China Champions Program (CCP) were celebrated at their Graduation Celebration on Thursday, April 19, at Burton Hall Atrium. Jean Quam, dean of the College of Education and Human Development, Beth Lewis, director of the School of Kinesiology, Li Li Ji, professor and founder of the program, and Meredith McQuaid, associate vice president and dean for Global Programs and Strategy Alliance highlighted the importance of this cultural and educational exchange between the University of Minnesota and Beijing Sport University.
During the 2017-18 academic year, the five Chinese Olympic and world champion athletes in the China Champions Program (CCP) attended specially designed courses in the School of Kinesiology. CCP provides academic courses, seminars, workshops and English as a Second Language (ESL) classes to elite athletes from China as a collaborative educational project with Beijing Sport University (BSU).
Guests at the Graduation Celebration were impressed with a slideshow and a performance that highlighted the scholar-athlete's experiences during their time in Minnesota. Special thanks goes to Jill Griffiths, director of the 2017-18 China Champions Program, who organized a comprehensive schedule of outreach opportunities and social events in addition to the educational program.
Congratulations to this year's participants in the China Champions Program!
Fei Xie (Sophia), Rhythmic Gymnastics
Shujiao Jin (Caroline), Judo
Wen Tong (Wendy), Judo
Yafei Chu (Robert), Race Walking
Yilin Yang (Amy), Gymnastics
See Flickr photos and the performance video clip: