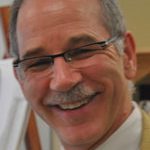 Juergen Konczak, Ph.D., professor in the School of Kinesiology and director of the Human Sensorimotor Control Lab (HSC), is the principal investigator for a grant from MN-REACH, a joint initiative between the National Institutes for Health (NIH) and the University of Minnesota. REACH, or the Research Evaluation and Commercialization Hub, is an NIH-administered, national program seeking to facilitate and accelerate the translation of biomedical innovations into commercial products that improve patient care and enhance health.
Konczak's grant aims to advance the commercialization of the Wristbot, a robotic system for the diagnosis and physical rehabilitation of sensory and motor dysfunction of the wrist and hand. It was developed in cooperation with international partners at the Italian Institute of Technology and Nanyang Technological University in Singapore. The grant will enable the lab to perform two clinical studies that seeks to document the efficacy of the Wristbot system as a diagnostic and rehabilitation tool for people with Parkinson's disease or for stroke survivors.
Read more about the Wristbot here, or watch this video to see it in action.