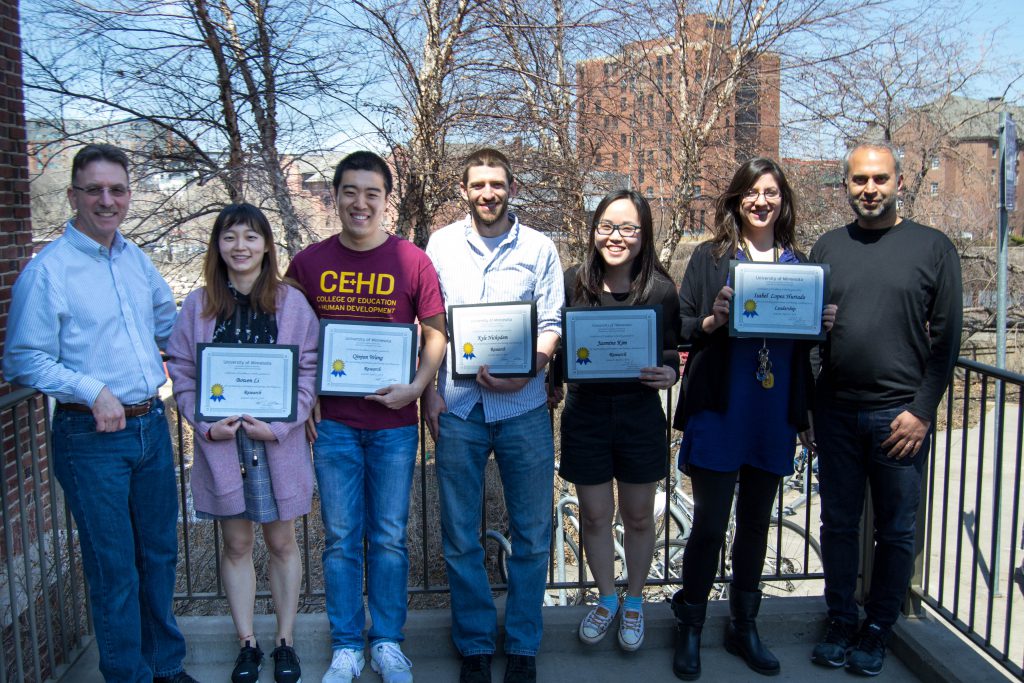 On April 23, 2018, psychological foundations of education students: Jasmine Kim, Isabel Lopez Hurtado,  Anthony Schulzetenburg, along with quantitative methods in education students: Qinjun Wang, Bowen Li, and Kyle Nickodem were awarded for their contributions to their program at the annual Psych Foundations and QME Awards and Recognition Ceremony.
Quantitative methods in education awards:
Qinjun Wang was awarded the Graduate Student Research Award. Qinjun has participated in three research projects, including projects with the IGDILabs and MOCCA (Multiple Choice Online Comprehension Assessment), as well as his own independent research. He has participated in the preparation of 21 total conference papers, presented across the country, and this year will be presenting internationally.
Bowen Li received the Graduate Student Research Award. She has published two papers since 2016 and has submitted one other on which she is first author. She has been part of a multi-university, interdisciplinary team that developed a new, formative reading comprehension test, the Multiple Choice Online Comprehension Assessment (MOCCA) that will be test marketed next fall.
Kyle Nickodem was awarded the Graduate Student Research Award. Kyle was selected for this award due to his research productivity, versatility, and quality. He has over 15 presentations and publications in the areas of statistics and psychometrics, as well as in substantive areas of Educational Psychology.
Psychological foundations of education awards: 
Jasmine Kim received the Graduate Student Research Award. Jasmine is only in her first year but she has already co-authored 2 journal papers that are now under review, and is preparing yet another 2 for submission. Her research focuses on identifying the conditions that will facilitate transfer of revised knowledge in new situations.
Isabel Lopez Hurtado was awarded the Graduate Student Leadership Award. Isabel was selected because of her cumulative contributions over her 4 years in the program, which include providing advice to more junior students, helping to organize social events, and coordinating Prof. Maruyama's research lab meetings.
Anthony Schulzetenberg received the Graduate Student Teaching Award. Anthony has been the lead TA for course EPSY1281 Applied Psychological Science for the past 2 years, and his overall teaching ratings range from 5.7 to 6.0. His students consistently acknowledge his efforts in glowing comments, and recently in a 'thank a teacher' note which can be found here.