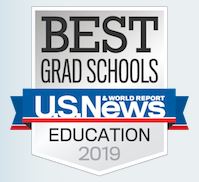 The Department of Educational Psychology once again holds top ten rankings in the 2019 U.S. News Rankings of Graduate Schools, ranking 5th overall in special education (up from 8th last year) and maintaining a 9th overall ranking in educational psychology.
The department is part of the University of Minnesota College of Education and Human Development (CEHD) which U.S. News ranked 11th among public professional schools of education, 19th among all schools. CEHD was also recognized as the top public school of education in the Academic Ranking of World Universities' 2017 rankings. CEHD's developmental psychology program in the Institute of Child Development was ranked #1 in the 2017 rankings.
"The college is uniquely positioned to address many of our toughest educational challenges," said Dean Jean K. Quam, "especially in areas such as educational equity, teaching and learning innovations, and children's mental health and development."
Learn more about the Department of Educational psychology's top-rated master's and doctoral programs.