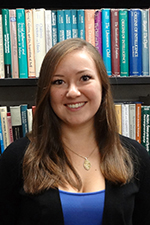 Carrie DePasquale, a Ph.D. student in the Institute of Child Development, was featured in the Greater Minneapolis Crisis Nursery Fall 2016 newsletter, Cribnotes. 
The Crisis Nursery works to end child neglect and abuse and help build healthier families. At the nursery, DePasquale is working to develop a behavioral measure that will help staff evaluate program offerings. 
"My goal is to help identify opportunities for improvement," DePasquale says. "Whether that means adding programs, or potentially just finding different ways to help the kids deal with transitions. They're not used to getting up and going about a normal day."
Read more about DePasquale and her work with the Crisis Nursery.