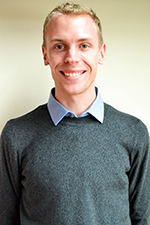 Reese Butterfuss, a Ph.D. student in the psychological foundations of education program in the Department of Educational Psychology and a member of the Reading + Language Lab, has been awarded the 2018 Graduate Student Research Excellence Award by the American Educational Research Association (AERA; Division C; Learning and Instruction). This award represents Division C's continuing efforts to recognize excellence in graduate student research. Butterfuss will receive his award at the division's annual business meeting at the American Educational Research Association (AERA) conference in New York City, April 13-17.
Butterfuss—under the mentorship of faculty member Panayiota (Pani) Kendeou—conducts research on the role of higher-order cognition on knowledge revision during reading comprehension. He has published several papers in this area. Read more about his most recent work on executive functions (EFs) and reading comprehension here. In addition to this award, Butterfuss received the Outstanding Student Paper Award (OSPA) from the Society for Text and Discourse and the Research Excellence Award from the psych foundations program in 2017.
Butterfuss is currently a Graduate Research Assistant on the TeLCI project, funded by the Institute of Education Sciences. In his role on the project, Butterfuss, along with Britta Bresina, are leading the investigation on the role of EF in young children's inference making.