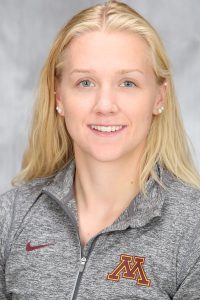 Sidney Peters, Gopher Women's Hockey goaltender and senior in the School of Kinesiology,  was drawn to volunteer work from the very beginning of her college career. As a freshman, she became involved in M.A.G.I.C (Maroon And Gold Impacting the Community), a program designed to encourage student-athletes to get involved in community service, and she has continued volunteering her time and talents with organizations ever since.  On Friday, April 6, her commitment to helping others was recognized when she received the prestigious Hockey Humanitarian Award from the Hockey Humanitarian Award Foundation. The organization presented Peters with a check for $2,500 during a ceremony held at the NCAA Men's Frozen Four tournament in St. Paul. The funds will be donated to her designated charity, Project Medishare.
The Hockey Humanitarian Award is given each year to college hockey's finest citizen — a student-athlete who makes significant contributions not only to his or her team, but also to the community-at-large through leadership in volunteerism.
Peters was deeply affected by her experience in 2016 when she traveled to Haiti to work as a volunteer in a hospital there. She continued her service when she returned, volunteering as an EMT and getting involved with other community organizations.
The award is featured in multiple media: