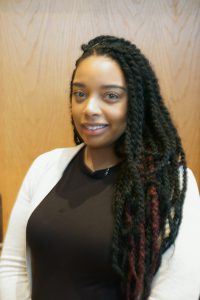 As a teen mother, Diamonique Walker dropped out of high school. After struggling to find an educational path that suited her needs and allowed her to still provide for her daughter, Walker decided to get her GED at 19. She followed that up with a two-year degree at a local community college and, later, a B.A. in psychology at Augsburg University. During her time in undergrad, Walker became interested in the application of statistics to psychology.
With help through her participation in the McNair Scholars Program at Augsburg, she began looking for a graduate program with compelling faculty research and a commitment to supporting the communities around it. Walker wanted a program that involved education, psychology, and statistics and says, "I found just that in the QME (quantitative methods in education) program."
Now a Ph.D. student in the Department of Educational Psychology, Walker's research interests lie in standardized tests, specifically, making them more culturally sensitive and fair for nonwhite and low-income students. In addition, she wants to better understand the achievement gap through the use of statistical models.
We asked about her experience as a QME student and what insights she'd like to share with prospective students. Here's what she said:
Q: What is most exciting about your work?
"I can confidently say that I love what I am learning. Although this is a challenging experience, it is molding me into being a critical thinker and the detail-oriented professional I want to be."
Q: What have you enjoyed most about your experience in your program? Has anything surprised you?
"I feel like I am in the right place with my program because I am around people who I can ask questions, who have strikingly similar interests as me, and who are always willing to help! I am surprised with how fast this first year has gone by. I am almost through one year of graduate school and I can hardly believe it. I am one year closer to having my Ph.D. than I was last year and that is so amazing to me."
Q: What would you like prospective students to know about your program? Any advice for them?

"Prospective students should know that this department is committed to students' success. Students can get the support they need from faculty, through connecting with other students, and instructors. It's a very supportive environment. I would advise them to take advantage of opportunities, whether that be as part of a research project, an internship, etc. This will help with professional development and build connections and common interests with faculty and staff. I've also found that this helps narrow your interests once you've exposed yourself to different opportunities."
Q: Do you have hobbies or activities that you do outside of work?
"I enjoy spending time with my daughter, my partner, and my dog. I also love bicycling, baking and reading."
Q: What's next for you?
"This summer I am hoping to find an internship that relates to my field of study to get more relevant professional experience as a data analyst."