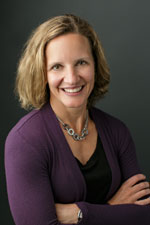 Beth Lewis, Ph.D., director and professor in the School of Kinesiology, has published the article "The effect of sleep pattern changes on postpartum depressive symptoms" in BMC Women's Health, a peer-reviewed, open access journal with a focus on the physical, mental, and emotional health of women.
The study finds an increased risk for depressive symptoms later in the postpartum phase if sleep problems with postpartum women worsen or show only minimal improvement over time. One conclusion recommends a six-week postpartum clinic visit to educate women about potential worsening of sleep patterns and to provide strategies for preventing sleep-related problems in order to decrease the risk of postpartum depression.
One of the co-authors is Katie Schuver, Ph.D., research associate in Lewis's Exercise and Mental Health Laboratory.