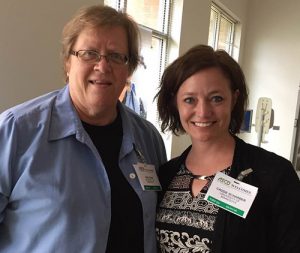 The College of Education and Human Development was recently recognized for its leadership in the innovative use of technology to support learning of pre-service teachers by the U.S. Department of Education and ASCD at the Teacher Preparation Innovation Summit in Washington, D.C.
Dean Jean Quam and Cassie Scharber, associate professor of learning technologies, represented the University of Minnesota and CEHD at the event, where Joseph South, director of the U.S. Office of Educational Technology, praised CEHD's ongoing work to improve teaching with educational technology.
"America's pre-service teachers must be prepared to use technology effectively in the classroom," he said. "We are excited by the innovations we're seeing at CEHD to ensure their pre-service teachers have opportunities to actively use technology to support learning and teaching through creation, collaboration, and problem solving."
The summit brought together researchers, schools of education, district leaders, accreditors, and support organizations to advance four goals for educational technology in teacher preparation programs outlined in the 2016 National Education Technology Plan, Future Ready Learning: Reimagining the Role of Technology in Education.
"We are excited about the future of educational technology as a tool to enhance student success in a variety of teaching and learning environments," said Quam. "It's part of our core mission in CEHD to prepare all of our graduates to develop and use new technologies."
Learn more about educational technology research and applications in CEHD's Learning Technologies Media Lab and in the Office of Digital Education & Innovation.
The summit cosponsor, ASCD, is a global community of 125,000 members— including superintendents, principals, teachers, and advocates from more than 128 countries—dedicated to excellence in learning, teaching, and leading.