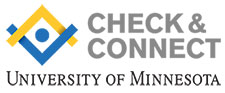 The Check & Connect program at the Institute on Community Integration has received a five-year, $750,000 grant from the Minnesota Department of Education (MDE) for a new project, "Using Check & Connect to Improve Graduation Rates in Minnesota for Black and American Indian Students with Disabilities." Check & Connect is a comprehensive intervention developed at the Institute that is designed to enhance student engagement in school and with learning for marginalized, disengaged students in grades K-12 through relationship building, problem solving, capacity building, and persistence.
In this project, Check & Connect will serve as a targeted or intensive intervention that will complement MDE's Multi-Tiered System of Support (MTSS), coordinating and collaborating with existing practices and supports such as response to intervention (RtI) and positive behavioral interventions and supports (PBIS). The project goal is to ensure a comprehensive approach that leads to increasing graduation rates for Black and American Indian students with disabilities in four Minnesota school districts: Minneapolis, St. Paul, Duluth, and Osseo.
"We look forward to the benefits that African American and American Indian students with disabilities will experience both academically and socially working closely with Check & Connect mentors in these four districts," says project director Jean Echternacht. The project's ICI staff include Jana Hallas, Eileen Klemm, Maureen Hawes, Tri Tran, and Rachel Freeman.