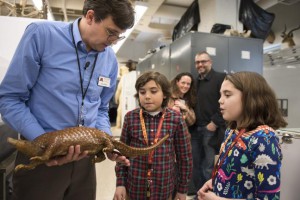 The children of FSoS alumna Anna Williams and CSE alumnus Nick Williams, Miller (age 9) and Maria (age 10), were each named an honorary "Bell Museum Tiny Curator" after they developed their own "Tiny Natural History Museum," near their home in Minnetrista.
There were more than 100 objects on display at their museum, and being from a family of great U of M pride, the siblings decided to donate half of the money they earned to the U of M's Bell Museum of Natural History.
On President's Day, the Bell Museum hosted the Williams family for a special tour. Along with their honorary title, the Bell Museum also presented the fledgling scientists with magnifying loupes and U of M backpacks.