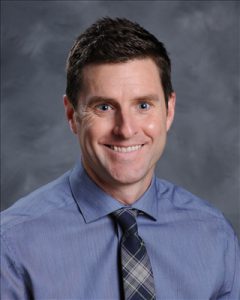 Corey Bulman, a CEHD alumnus who received his M.Ed. and initial teaching license in English Education from the Department of Curriculum and Instruction in 2006, recently won the prestigious Minnesota Teacher of the Year award. Bulman was selected from 132 candidates, 27 semifinalists, and 11 finalists to receive the 2017 award from Education Minnesota, an 86,000-member statewide educators union. Candidates include prekindergarten through 12th-grade teachers from public or private schools.
Bulman, who has been a language arts teacher at Mound Westonka High School in Mound, MN since earning his teaching license 17 years ago, was inspired by his high school teachers to reach his potential after years as a struggling student. He wrote in his Teacher of the Year portfolio, "This educational experience taught me an important lesson: education is a gift that is renewed every time it is shared. This fact has driven me to give to others what I was so graciously given all those years ago."
"Even after 18 years, I still remember this outstanding student," said Richard Beach, Professor Emeritus of English Education who advised Bulman during his time in graduate school. Beach notes that Bulman is the third graduate from the English education program to receive the Teacher of the Year award.
Bulman told the Star Tribune that his students remain a constant source of inspiration. "I'm so incredibly proud to be their teacher," he said. "They make me think every single day, they challenge me, they keep me young, they keep ideas fresh and vibrant. I'm very fortunate to be their teacher."
A former student of Bulman's, Sara Strother, who is finishing her M.Ed. in Arts in Education this May from the Department of Curriculum and Instruction, wrote in support of Bulman's nomination, "When I was in high school, it mattered a great deal to me how adults treated me. Corey was an adult who showed me he believed I was smart and cared about my ideas. He was honest, funny and made me believe in myself." She adds, "Corey doesn't just care about the people in his classroom. He cares about how to make them better people, thinkers and leaders of thoughtful lives."
Learn more about the teacher education programs in the Department of Curriculum and Instruction. Consider supporting the teacher preparation work in the Department of Curriculum and Instruction to help us develop future teachers of the year.