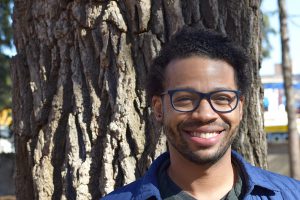 Ezekiel Joubert, a Ph.D. candidate in the Department of Curriculum and Instruction received the Interdisciplinary Dissertation Development scholarship from the Institute of Advanced Studies to support his dissertation research. The program is designed to give University of Minnesota graduate students in the social science and humanities fields the opportunity to workshop, test, and begin the proposal writing process.
Joubert's dissertation looks at the effects of economic migration on black Americans and what role educational opportunity played in altering the routes of the descendants of the Great Migration. Joubert's family was part of the Great Migration that settled in Southeastern Michigan in a small cluster of rural and semi-rural townships and small cities forged by industrialization and transformed by black migrants in search of economic opportunities and safety from the Jim Crow South. Years later, this area experienced a wave of intrastate migration due to deindustrialization and disinvestment in cities such as Detroit.
"As a descendant of the Great Migration and a child of parents who left Detroit, I noticed a number of challenges facing these black residents: increasing concerns over contaminated land and water, a loss of economic opportunity in semi-rural or rural areas and most important to my study, public school closures and mergers and school of choice which has forced families to choose between traveling long distances to get their children to school or to uproot their families completely," Joubert said, which helped him focus his research of understanding the effects of requiring students, particularly children of color, to involuntary and voluntary cross racial, economic, political, and regional borders.
Joubert is advised by associate professor Tim Lensmire.
Learn more about the Ph.D. program in Culture and Teaching in the Department of Curriculum and Instruction.