Vanessa Goodthunder, and M.Ed. candidate in Social Studies Education in the Department of Curriculum and Instruction, was profiled in the University of Minnesota's Legacy magazine for her commitment to her Native American community on the Lower Sioux Indian reservation in southwestern Minnesota.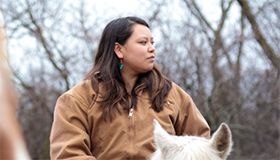 Goodthunder was inspired to earn her initial teaching license in social studies education because she noticed that even though many of the students in her school were Native American, none of the teachers were. She ultimately hopes to teach the Dakota language, which she has been studying on campus, and high school social studies in the Twin Cities or on the Lower Sioux reservation.
"Education really helped me thrive," says Goodthunder. She hopes to inspire the next generation of American Indian students to speak their native language in order to preserve their heritage while reaching their potential as students. Read the full story in Legacy magazine.
Learn more about the M.Ed. and Initial Teaching License program in Social Studies education.  
Consider supporting the Department of Curriculum and Instruction's educational programs and initiatives to increase diversity in the teacher candidate pool in Minnesota.