Professor Gillian Roehrig has been elected to the prestigious role of President of the Association for Science Teachers Education (ASTE), a non-profit professional organization composed of over 800 members from countries around the globe.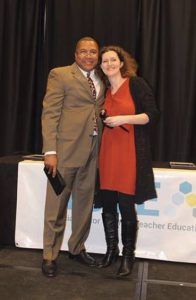 The mission of ASTE is to "promote excellence in science teacher education world-wide through scholarship and innovation." Members include teacher educators, scientists, science coordinators and supervisors, and informal science educators who prepare and provide professional development for teachers of science at all grade levels.
As both a professor of science education and the Director of Graduate Studies in the Department of Curriculum & Instruction, Roehrig's professional focus is on advancing science teacher education and preparation.
She writes that her "research and teaching interests are centered on understanding how teachers translate national and state standards into their classrooms. Of particular interest is how teachers, from preservice through induction and into the inservice years, implement inquiry-based teaching and how different induction and professional development programs can influence teachers' knowledge, beliefs, and classroom practices."
Roehrig's brings her considerable experience and expertise to help steer ASTE in advancing science education practice and policy through scholarship, collaboration, and innovation in science teacher education.
Learn more about the science teacher education and research programs in the Department of Curriculum & Instruction.