Marek Oziewicz, Professor of Children's and Young Adult Literature in the Department of Curriculum and Instruction was quoted in the Star Tribune on Neil Gaiman's book, American Gods, which is being adapted into a TV series on Starz.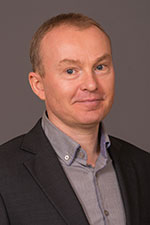 Gaimain, who has roots in the Midwest, says "I couldn't have written [the book] without living in Wisconsin, and Minneapolis and St. Paul being the nearest big cities. It just wouldn't have worked."
Oziewicz, who teaches several courses on children's and adolescent literature says of Gaimain, "His ideas are absolutely unique when it comes to speculative fiction, adding "Asking me to describe him in two sentences is like asking me to describe J.R.R. Tolkien in two sentences," Oziewicz said. Read the full article in the Star Tribune.
Find out more about literacy education programs offered in the Department of Curriculum and Instruction.