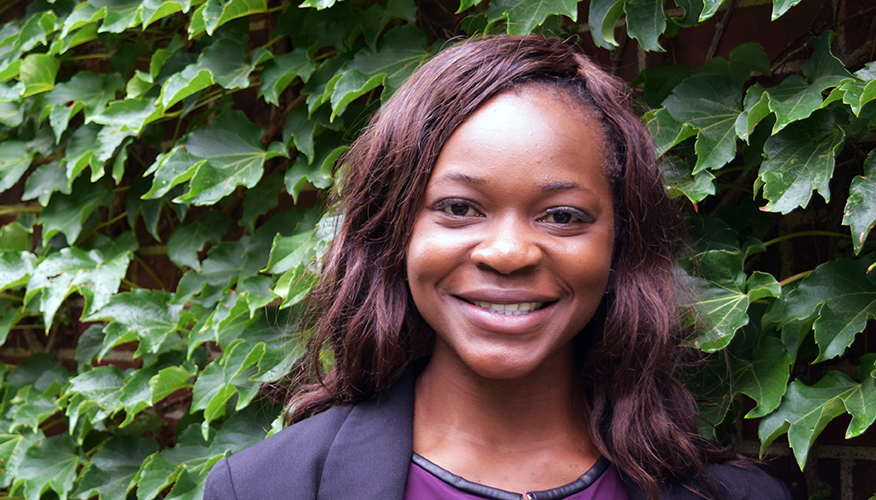 Senior Aarinola Esther Okelola talks about her drive to change the educational system, her research on school discipline practices, and her internship with Senator Al Franken.
What is your current degree program?
Elementary Education  Foundations, and I am minoring in English as a Second Language (ESL). I expect to graduate in May 2018.
What drove you to enroll in the program?
I've always been interested in a teaching role, and in education as a whole.  In my First Year Inquiry class titled "Making a Difference in the Lives of Young People," we read The New Jim Crow and Start Where You Are, But Don't Stay There.  I learned from this class and the books we read about the school-to-prison pipeline and the opportunity gap that leads to the achievement gap. I felt very strongly in myself that I have to do something about these racial disparities, specifically those in education that start at an early age. That led me to become an elementary education major.
Tell me about your research as a McNair Scholar.
I am conducting research in the area of education justice with Professor Catherine Squires. This last year, we collected literature on both  punitive and restorative justice discipline practices in Minnesota schools.  Moving forward, we're working on collecting discipline data from schools, meaning find out the different discipline practices used to create a map that displays school discipline practices in Minnesota.
You also are interning in Senator Al Franken's office. What are your duties there?
I currently do administrative tasks as well as sorting through constituent policy requests. I am partnered with the education expert at the office and will be working with him on education-related projects. I will be present the results of our projects at the end of my internship. We will get a chance to meet the Senator later on in the internship, too.
What do you hope to get out of your educational experience?
I hope to grow in my understanding of our education system, to make connections with my colleagues and professors, to find mentors, and eventually to take a leadership role in making the policies surrounding education.
What has been your experience with the faculty?
My experience has been positive so far in regards to CEHD faculty. All have been receptive, knowledgeable, friendly, and willing to share helpful information.
Did your coursework help prepare you to move forward in your career of choice?
The coursework has given me a good scope of material that I will need to know as a future teacher. Because there is always room for improvement, adding more lesson planning and multicultural discussions to the Elementary Education undergraduate coursework I feel will better prepare us as educators in our current world.
Any other thoughts you want to share about your experience?
I feel I'm exactly where I need to be and CEHD has been a warm environment for me to learn in.
Learn more about the elementary education foundations program in the Department of Curriculum and Instruction.