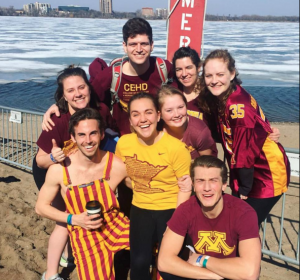 Michael Rask, first year M.A. student in the counseling and student personnel psychology (CSPP) program was stopped on the street in Dinkytown on Valentine's Day by Steve Patterson, an anchor from Twin Cities Live (TCL) on Channel 5, and challenged to go on a date with a fellow University of Minnesota student (also walking in Dinkytown), Kristina. The two went out for coffee, and Michael sent an email to TCL with a photo of him and Kristina on their date. He challenged TCL back to donate to support him in a Polar Plunge he was participating in with fellow CSPP classmates and faculty. Participants in the Polar Plunge jump into freezing water to raise money for Special Olympics events in Minnesota.
Watch a clip from TCL on Michael's challenge. (4:18)
Thanks to Michael's promotion of the event on TCL, he was able to successfully surpass his goal of raising $1,500, bringing in $1,788 in total according to his Polar Plunge page.
Other faculty and student participants from CSPP included Marguerite Ohrtman, Addison Novak, Brandon Forcier, Melissa Derby, Megan Anderson, Drew Wanschneider, Emily Cranberg, and Rikki Hemstad. The team raised the most of any of the University of Minnesota teams. The Polar Plunge event raised $860,441 for Special Olympics Minnesota.
Congratulations and great work to all of our CSPP Polar Plunge participants!