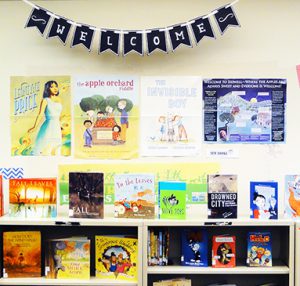 The Curriculum and Instruction (CI) Library, housed in 45 Peik Hall, recently launched a new website featuring an online searchable catalogue that effectively creates a digital space for patrons to search for texts that are not available in the UMN library system. The library is the only campus space that loans children's and adolescent literature to students, faculty, and staff.
The CI Library is one of campus's best-kept secrets. It houses a curated collection of children's and adolescent literature and a smaller repository of academic curricular materials and texts. Library staff can partner with instructors to work on course assignments and put course materials on reserve. Students can check out books, use the space for study or meetings. Staff are happy to give a tour to interested patrons.
"We are excited to extend our reach outside of Peik Hall with the launch of our first website," says CI Library Coordinator, Sara Sterner. "We welcome visitors to enjoy our new digital space and visit us in person."
Learn more about academic programs in literacy education  in the Department of Curriculum and Instruction.
Search the CI library's online catalogue.