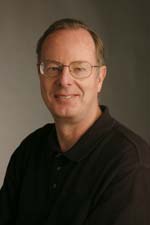 Mark Davison, John P. Yackel Professor in Educational Assessment and Measurement in the Department of Educational Psychology's quantitative methods in education program, was recently honored with an Outstanding Contributions to Graduate and Professional Education Award from Office of the Executive Vice President and Provost, and the University of Minnesota Alumni Association. This award recognizes excellent teachers who engage students in a community of intellectual inquiry, are significant mentors and role models, and develop and promote activities that help students understand the larger context of their intended professions.
One of a select group of University of Minnesota teachers chosen for this honor, Davison will receive a one-time $15,000 award and become a member of the University's Academy of Distinguished Teachers, which serves the University through various activities that aim to improve teaching and learning.
"We all are very pleased to see Mark's important contributions to graduate education recognized in such a meaningful way.  His highly accomplished former students made a persuasive case for him receiving the award," said Geoffrey Maruyama, department chair.
Davision will receive his award in a ceremony at McNamara Alumni Center on April 27, and, along with his fellow recipients, will be introduced to the University's Board of Regents meeting May 11-12.
Please join us in congratulating Dr. Davison on this well-deserved honor!