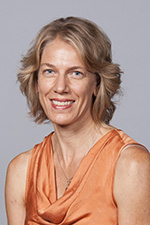 Joan DeJaeghere, associate professor in the Department of Organizational Leadership, Policy, and Development (OLPD), has been selected for a Fulbright Specialist project in Vietnam at  the Vietnamese Institute of Educational Sciences from December 1-14, 2014, according to the United States Department of State and the J. William Fulbright Foreign Scholarship Board.
Professor DeJaeghere will conduct two mini-courses/workshops —  Educational Research Models and Statistical Analyses, and Analyzing Educational Policy as Texts and Practices  — for senior educational researchers, policy makers and practitioners.
Dr. Seongdok Kim (OLPD alumnus, PhD-CIDE, 2014), whose dissertation was about secondary education completion in Vietnam, will join Dr. DeJaeghere in facilitating the courses.
DeJaeghere is one of over 400 U.S. faculty and professionals who will travel abroad this year through the Fulbright Specialists Program. The Fulbright Specialists Program, created in 2000 to complement the traditional Fulbright Scholar Program, provides short-term academic opportunities (two to six weeks) to prominent U.S. faculty and professionals to support curricular and faculty development and institutional planning at post secondary, academic institutions around the world.