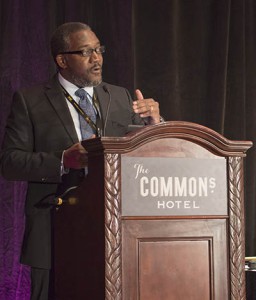 Literacy is a powerful "tool of protection," especially for underprivileged or at-risk students, Chicago educator and researcher Alfred Tatum said at the CEHD Policy Breakfast at the University of Minnesota. More than 100 educators, researchers, and local professionals gathered January 20 to discuss literacy development and educational policy with their metro area colleagues.
Tatum, dean of the College of Education at the University of Illinois–Chicago, has spent the last 18 years researching the literacy development of African-American male students in Chicago public schools. In his presentation, he gave moving examples of student responses to rigorous classroom assignments and methods.
Tatum applied his findings to the policy environment and literacy improvement efforts in Minnesota. He quoted the recent State of the State address and, as an example, cited Minneapolis Public Schools' current goal to increase reading proficiency annually by five percent overall and eight percent for students of color.
Tatum questioned the effectiveness of gradual-growth plans, calling attention to the number of students that a slower rate of improvement leaves behind each year.
"Is it a literacy plan," he asked, "or a poverty-illiteracy-dropout-unemployment plan?"
He urged educators to take a more dramatic approach to literacy development in their classrooms. He explored why many students hold severed relationships with reading and writing, both academically and creatively. He also spoke about "textual lineages," illustrated with photos of male writers of Africa descent that he uses in his classrooms, reminding the audience that literacy in Africa dates to ancient times.
Building literacy skills builds long-term confidence and capacity, Tatum explained. "It's not just about students' literacies. It's about their lives."
Tatum's keynote was followed by remarks from four panelists. Gevonee Ford, founder and director of the Network for the Development of Children of African Descent, a family education center in St. Paul, asked the audience to consider ways to expand ownership of policy. "The question is 'Who gets to be the educational authority for my children?'" he said. "Literacy has always been a political act for African people." Ford asked the audience to look for places where African Americans are educating themselves and learn from them.
Jonathan Hamilton, research director for the Minnesota Minority Education Partnership (MMEP), stressed the importance of school leadership and agreement on common language, such as the concept of equity. Hamilton joined the panel when Rep. Carlos Mariani, MMEP's director, was not able to attend due to responsibilities at the Legislature.
Tina Willette, principal at Salem Hills Elementary School and Athanaeum in Inver Grove Heights, described her school's efforts to help all—instead of most—students meet literacy goals. "That word 'all' makes all the difference," she said, and it requires adaptive rather than technical changes.
Lori Helman, professor and director of the Minnesota Center for Reading Research in CEHD, cautioned against the "magic bullet" approach and urged educators and U researchers to push each other. "The 'solution' involves all of us," she said.
Educators in the audience sought advice from the speaker and panelists on ways to bring Tatum's research into their own classrooms and their students' daily routines. Campbell Leadership Chair Michael Rodriguez, professor of educational psychology, facilitated the conversation.
Tuesday's Policy Breakfast was the fourth installment in an ongoing series sponsored by CEHD, which is dedicated to discussion and analysis of research and policy regarding Minnesota's achievement gap and efforts to close it. This semester's topic, framing responsive literacy instruction in the national policy context, was planned in partnership with the Minnesota Center for Reading Research.
Materials from the presentation will be available on the Policy Breakfast website.
– Ellen Fee and Gayla Marty; photos by Seth Dahlsheid