The University of Minnesota created the Doctoral Dissertation Fellowship (DDF) program to allow the "the University's most accomplished PhD candidates an opportunity to devote full-time effort to an outstanding research project by providing time to finalize and write a dissertation during the fellowship year."  This academic year, the Department of Curriculum & Instruction was honored to receive the award for four of its outstanding PhD candidates.
What constitutes an outanding research project? We find out more about the four DDF recipients and their dissertation projects, career interests, and how they are planning to create change and promote knowledge for learners of all ages:
Melissa Engman
Revitalizing language, reframing expertise:  An ecological study of language in one teacher-learner's Ojibwe classroom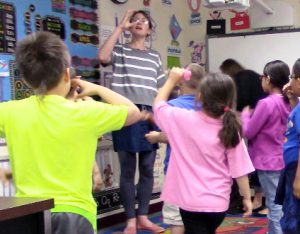 When Melissa Engman was a graduate student in applied linguistics, she worked with associate professor Mary Hermes transcribing Ojibwe videos. The work led her to take a class in language revitalization—the process of reviving declining, often indigenous languages—and there she found resonance in the inherent social justice issues that arose with cultures who have seen their native language use dwindle. "I became aware that I'm a white person living here on land that was once Ojibwe and Dakota land. I began to think about assumptions and power that come with speaking a dominant language," Engman says.
Engman's work focuses on a classroom in the Lac Courte Oreilles reservation in Northwest Wisconsin where Ojibwe language is part of the curriculum. Due to the fact that Ojibwe language instruction materials are very few and many of the teachers have varying experiences with formal language training, Engman is trying to understand how to model the language revitalization program to be effective.
Engman attributes her research success partially to an atmosphere of collaborative support in her with her peers in Second Language Education. "Our cohort has very different research areas, but critical thinking is what unites our work," Engman says. "We're not afraid to challenge and push each other. That's created a real sense of camaraderie and support. The faculty have done a really good job of fostering those relationships."
Jenna Cushing-Leubner
Recuperating heritage languages, becoming transformative educators: Multilingual teachers and students of color transforming schools

After completing a Fulbright Scholarship teaching German to Turkish students in Austria, Cushing-Leubner realized that the non-native language learners in the schools were being left behind. She found a similar situation for Spanish-speaking students in the United States, which led her to focus her dissertation on developing a "heritage language" curriculum for students who speak Spanish at home. These students can use their home language as a springboard to learning more about their history, heritage and be included more effectively in a classroom setting.
"Multilingual kids are not represented in the current curriculum at all. They don't see school as a space that's designed for them," Cushing-Leubner explains the problem with current foreign language classrooms. "Heritage language classes can reverse the trend of excluding home-language speakers."
Cushing-Leubner is working with new teachers in high schools and middle schools across the Twin Cities metro.  They have already successfully implemented heritage language classes in Spanish that use Latino-American history as a way for students to practice reading and writing the language they already speak proficiently. For these students, "keeping ties to their heritage languages is a point of strength and hope, and helps create community with one another," says Cushing-Leubner.
Emily Midkiff
Enabling Space Cadets: Quality Science Fiction for Children under 12 Years Old
Emily Midkiff got sidetracked while working on a class project to analyze a library's circulation data.  She noticed how little children's science fiction existed compared to children's fantasy literature, though the check-out rates were the same. This led Midkiff to create her dissertation to examine science fiction for children under 12, an area that is largely neglected but important to the development of interest in the STEM education fields.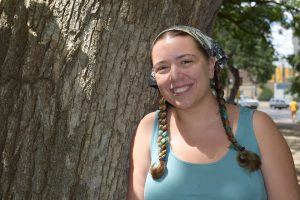 "There are all these interview on how engineers, scientists and people at NASA read sci-fi when they were little. It shaped how they view science; Not a lot of people make that connection," Midkiff says. She plans to look for strong girl characters and diverse heroines in children's science fiction to better understand the lack of women and minorities in the STEM fields as part of her research.
Jenifer Vanek
Migrant Adult Learners and Digital Literacy: Collaborative Study for Sustainable Change
Jen Vanek has been working in the field of adult literacy and second-language learning for 20 years, the last 10 of which she has focused on digital literacy. Her dissertation is aimed at helping adult ESL teachers integrate online learning into teaching. She is working closely with four community-based organizations to to design digital homerooms stocked with learning resources for adult English-language learners to use in their computer learning labs.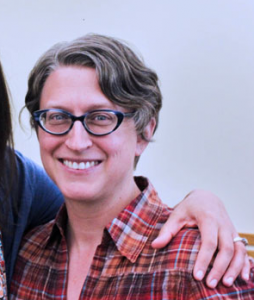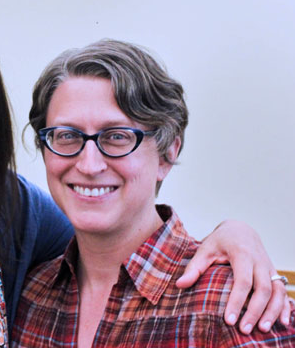 "I hope that what emerges at the end are not only instructional resources that solve local problems, but also observations on how learning happens that can be applied to other learning environments," says Vanek.
Learn more about the Ph.D. programs in Second Language Education and Literacy or other doctoral programs in the Department of Curriculum & Instruction.
Nominations are open for next year's DDF fellowship.