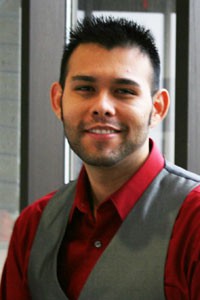 After years of living in the United States illegally, Daniel Perez, a former FSoS undergraduate student and current graduate student, has a green card after qualifying for a federal program that offers deportation reprieve for immigrants who entered the country as children.
Perez, who crossed the Mexican border when he was 15, qualified for the Deferred Action for Childhood Arrivals program (DACA), passed by the Obama administration in 2012.
According to an article in the Star Tribune, for those who qualify, DACA offers a temporary reprieve from deportation and a work permit. For some immigrants married to U.S. citizens, the program also allows government-approved travel abroad to nullify their initial illegal entry into the country and permit them to apply for a green card.
Perez's wife, Kendra, a Canadian who is now a U.S. citizen, sponsored him.
Through DACA, Perez has been granted "advanced parole," according to the Star Tribune. This means that a person with a pending immigration application has permission to  re-enter the country, as long as they had an educational, professional, or humanitarian reason to leave the country. Perez, who now works as a social worker in Minneapolis, was granted advance prole for a professional conference in Canada.
Now Perez and his wife are planning his first trip to Mexico since he and his family left in 2002. They will visit his grandparents and other family.
Perez will be eligible to apply for citizenship in 2018.