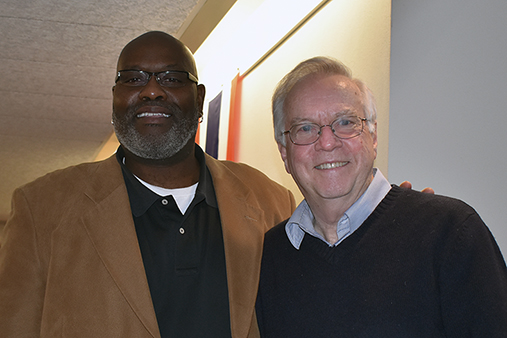 Family Social Science doctoral candidate Corey Yeager successfully defended his Ph.D. dissertation in a mid-December session attended by a supportive crowd of faculty, friends and family. But the most unique facet of Yeager's doctoral candidacy is the distinction of being Professor Bill Doherty's last advisee.
Doherty, who joined the Department of Family Social Science in 1986, says he  will continue to serve on graduate student committees, but he feels he's at an age where taking on new students for the doctoral degree process (normally around five-years) would not be a good idea for the student.
"I couldn't be more delighted that Corey was my final student," said Doherty. "He learned and grew tremendously, and is already making wonderful contributions to the practice and theory of family social science."
Doherty says Yeager is a prime example of the Department of Family Social Science's focus on developing community partnerships.  That's a big change he's noticed over his 30 years of advising doctoral candidates. They enter the program seeking to understand the bigger picture of issues affecting families across the lifespan, and finding their unique research path to make an impact.
He has also observed that some candidates often must cope with the anxiety of their family and community about their doctoral ambitions.  "Especially in communities of color, there's apprehension that if someone gets their doctoral degree, they'll abandon their community," said Doherty. "That's not true with Corey—he's thoroughly engaged."
Addressing community challenges
Yeager has worked since 2013 in Minneapolis Public Schools' Office of Black Male Student Achievement (OBMSA) that addresses the achievement gap in the district's black male students – the largest demographic group in the district.
He steps into a new role as Educational Equity Director that will focus on professional development for administrators, teachers, and support staff to address the gap. According to OBMSA, black male students lag behind their white male counterparts in every achievement indicator, and have a 39 percent high school graduation rate, compared to white male students' 65 percent.
"My graduate work and the ability to access, understand, and use meaningful research to support OMBSA's work has been very helpful," said Yeager.
As part of his doctoral work, Yeager and Doherty collaborated with black male students at South High School to create the "Relationship Project." Using the framework Doherty has developed with his Families and Democracy Project, the two researchers listened and learned from the young men, who chose to work on improving their relationships with teachers and their female peers as a way to address their achievement gap.
The two helped the young men improve their communication skills to interview teachers and learn more about them, while the students organized a peer panel of young women to understand the behaviors they display that create discomfort, and what they could do better. Yeager says the work has been powerful for all involved and achieved positive results for the students.
Communities as co-producers
Doherty says this democratic approach builds credibility and trust with individuals, families and partnering organizations.  He has spent his career honing this framework that recognizes a community as a base of both knowledge and action.
The temptation of academia he says, is to go into a partnership with a top down mindset as the "expert deliverer of new knowledge."
"But when you access both the academic knowledge and the knowledge that resides in those communities – that's dynamite," he says. Being able to implement that kind of approach requires developing communication and facilitation skills that foster open community engagement.
"Never start with a powerpoint," says Doherty. Doherty advises dialogue – ask those in the room to share what they know, what they've observed, and how they feel about the issue at hand.
"I call it 'being on tap' rather than 'being on top,'" he says. "The dialogue builds trust and appreciation for listening and we – the academics – become resources."
Yeager expressed his own appreciation for Doherty's mentorship in attaining his doctoral degree.
"Dr. Doherty was a guide, trainer, motivator, therapist and confidant for me through this doctoral journey," he said. "I am ever indebted to him and will work diligently to repay him for all he has become to me…"
Learn more
You can learn more about Professor Doherty's work at the Citizen Professional Center site.