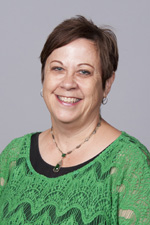 Department of Family Social Science faculty member Catherine Solheim was among 14 recipients awarded an International Teaching and Learning Fellowship for 2013-14 from the Global Programs and Strategy (GPS) Alliance. The fellows will work to internationalize the University's curriculum and foster collaborations around global issues.

According to the GPS Alliance, ITL Fellows have developed individual plans to accomplish goals this year related to internationalizing the curriculum. All Fellows have completed the requirement of participating in the ITL Faculty Cohort Program – a University system-wide program designed to give faculty members the basic tools and methods for internationalizing the curriculum.
The Internationalizing Teaching and Learning (ITL) Fellows Program will support faculty as they further their engagement with internationalizing the curriculum and deepen their practice related to internationalized teaching and learning. The ITL Fellows have all previously participated in the Internationalizing Teaching and Learning Cohort Program. The ITL Fellows Program is offered in partnership with the Center for Teaching and Learning.
Visit Professor Solheim's profile to learn more about her research and outreach.