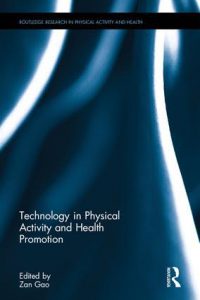 Zan Gao, Ph.D., associate professor in the School of Kinesiology and director of the Physical Activity Epidemiology Laboratory, recently published a book titled "Technology in Physical Activity and Health Promotion" together with his graduate students Jung Eun Lee, Zachary Pope, Haichun Sun, and Nan Zeng with Routledge publishers.
Offering a logical and clear critique of technology in physical activity and health promotion, this book will serve as an essential reference for upper-level undergraduates, postgraduate students and scholars working in public health, physical activity and health and kinesiology, and healthcare professionals.
The book is now available on the Routledge website and Amazon.com.