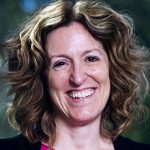 Abigail Gewirtz, Ph.D., Lindahl Leadership professor in the Department of Family Social Science and the Institute for Translational Research, and a professor in the Institute of Child Development, recently was featured  on the CEHD Vision 2020 Blog.
In her post, "Project ADAPT Improves Parental Self-Efficacy and Child Adjustment in Military Families, Gewirtz discusses Project ADAPT, which aims to help military families adjust to regular life after returning from deployment and teaches effective communication strategies between parent and child.
According to the blog, parents who participated in Project ADAPT reported feeling better about their parenting, which in turn leads to improvements in the child's adjustment. The project has also reduced depression, PTSD symptoms, and thoughts of suicide for the parents involved.