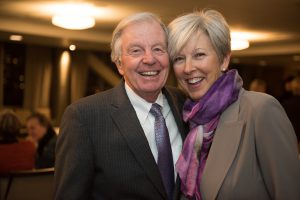 On Oct. 25, The Honorable Helen Meyer, Associate Justice of the Minnesota Supreme Court, was presented with the University of Minnesota's Outstanding Achievement Award.
Meyer is a School of Social Work alumna, who carried out the school's commitment to social justice through her work as a lawyer and judge.
While on the state Supreme Court, Justice Meyer led a workgroup that identified and implemented ways to improve legal assistance for families in child protection cases. Because of her efforts, children's interests in Minnesota are better represented by having competent parental representation.
Justice Meyer also recognized that cases involving individuals struggling with addiction were not being handled effectively, and were not decreasing recidivism. She laid the groundwork for establishing addiction treatment courts in our state.
After stepping down from the Supreme Court, Justice Meyer continued her advocacy on behalf of families by helping to establish the Mitchell Hamline Child Protection Clinic at her  law school alma mater.
In her remarks, Meyer recalled taking a class with Esther Wattenberg and how it made an impact on her decision to work on behalf of vulnerable populations.
The Outstanding Achievement Award is reserved for University of Minnesota alumni who have attained marked distinction in their profession or in public service; and who have demonstrated outstanding achievement and leadership on a community, state, national, or international level.