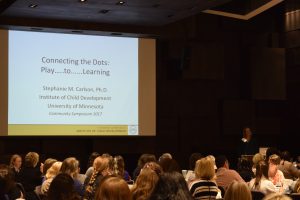 On May 15, the Institute of Child Development (ICD) hosted a community symposium on the importance of play for learning.
For the symposium, which was co-hosted by the Minnesota Children's Museum, ICD faculty and staff presented cutting-edge research on play and discussed why it is critical to child development.
Presentations covered topics including play's impact on a child's understanding of math, how play influences the development of executive function, and how the Children's Theatre Company is incorporating research into a preschool storytelling program. Each presentation was followed by a play-based activity that asked participants to explore what they learned.
Experts from the Minnesota Children's Museum also provided a sneak peek of their new facility and exhibits, which will open to the public on June 7.
To learn more about why play is critical to learning and child development, read the following articles from Connect, the College of Education and Human Development's alumni magazine.
"The power of play:" Play is essential for learning and growing, but it doesn't get the respect it deserves. New research is changing that.
"Play lab:" Children lead at the U's laboratory preschool
"Setting the stage for learning:" Supporting early literacy through theater arts