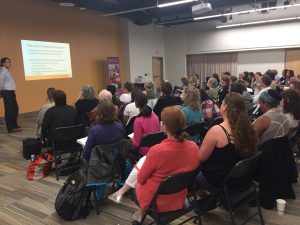 Philip D. Zelazo, Ph.D., a Nancy M. and John E. Lindahl Professor in the Institute of Child Development (ICD), and Andrei Semenov, a child psychology doctoral student in ICD, recently presented at the Mindfulness in Education Summer Institute.
The summer institute is a community event hosted by the University of Minnesota's Center for Spirituality and Healing. The 3-day event aimed to bring together teachers, researchers, clinicians, and practitioners to discuss mindfulness research and ways to promote practices that support wellbeing in school communities.
For the event, Zelazo delivered a keynote address that focused on how mindfulness practice has been shown to promote reflection and executive functions in children and adults.
Semenov's presentation highlighted findings from curriculum evaluation conducted this past year. The novel curriculum, developed in collaboration with the Center for Spirituality and Healing, introduced mindfulness practice to a cohort of elementary school teachers in an effort to improve teacher wellbeing and promote mindful approaches to student-teacher interactions.