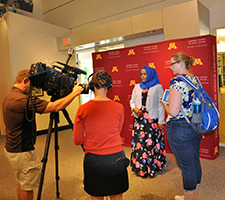 Anab Gulaid, a public health expert in CEHD's Institute on Community Integration, was a panelist for Vaccine and Autism: Myths and Facts, a recent town hall forum held to address Somali parents' concerns about the Measles, Mumps, and Rubella (MMR) vaccine, autism, and the measles outbreak affecting the Twin Cities' Somali community.
Held on July 8 at the University of Minnesota's Humphrey School of Public Affairs, the forum was hosted by the Humphrey School and the Voice of America news network, which broadcast the two panel discussions – one in Somali and one in English – to its worldwide audience. The gathering, which was covered by numerous media (e.g., Minnesota Public Radio,  Fox 9 News), was prompted by the measles outbreak tied to low MMR vaccination rates among Minnesota's Somali community.
See video of the panel discussion in English (which includes a short segment on autism research by CEHD faculty Jed Elison and Jason Wolff) and the other panel discussion in Somali (which includes Anab Gulaid).