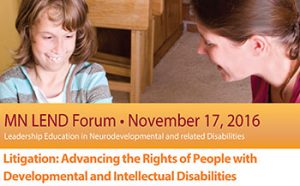 The Minnesota Leadership Education in Neurodevelopment and Related Disabilities Program (MN LEND) at the College's Institute on Community Integration will present its fall forum, "Litigation: Advancing the Rights of People with Developmental and Intellectual Disabilities" in St. Paul on November 17. The keynote speaker is the Honorable Donovan W. Frank, U.S. District Judge for the District of Minnesota, and long-time champion for the rights of people with disabilities. He will be joined by a panel of local and national legal experts to discuss how litigation is framing and moving forward the human and civil rights of people with intellectual and developmental disabilities:
Greg Brooker, First Assistant U.S. Attorney
David Ferleger, Attorney with Supreme Court and federal court experience
Pamela Hoopes, Attorney, Legal Director at Minnesota Disability Law Center
Shamus O'Meara, Attorney, Managing Shareholder at O'Meara, Leer, Wagner & Kohl, P.A.
Roberta Opheim, State of Minnesota Office of the Ombudsman for Mental Health and Developmental Disabilities
The event is free and open to the public, but space is limited and registration is required. "MN LEND focuses on improving access to and equity of high quality assessment, services and supports for all children with neurodevelopmental disabilities and their families," says Amy Hewitt, MN LEND training director. "Litigation has always been key to transforming systems and moving forward the disability rights movement in the United States. We are so fortunate to be able to bring together such an esteemed group of professionals for our MN LEND forum."
The forum will be on Thursday, November 17 in the Grand Hall at the TIES Event Center, 1644 Larpenteur Avenue West, St. Paul, MN 55108. The program, with a light lunch at the start, runs from 12:30 p.m. – 4:45 p.m., followed by an ice cream reception.
The event will also be filmed and posted on the MN LEND website in the LEND Webinar Archive for later viewing.