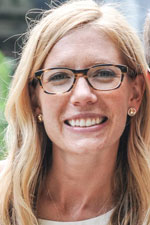 School of Kinesiology alumna Mackenzie Lobby Havey, M.A., will read her recently published book, Mindful Running: How Meditative Running Can Improve Performance and Make You a Happier, More Fulfilled Person, at the U of M Bookstore in Coffman Memorial Union on the Minneapolis campus on Tuesday, October 17, at 4 p.m.
In her book, Havey, who is a runner, coach, and fitness journalist, describes her personal experience with meditative running and the influence it has had on her life.
"I discovered that when I integrated the principles of mindfulness into my daily running practice, it boosted my joy in the process of training, as well as my performance, and I wanted to share that in this book," she says. "As I began to deconstruct my own mindful running routine and talk to Olympians, paralympians, and researchers in the fields of contemplative neuroscience and sports psychology, I found that I wasn't the only one who had experienced significant benefit from combining mindfulness with physical training. Mindful Running is all about learning to run the mile you are in and train smarter, not harder–to find new ways to relate to your body, mind, and environment to deal with things like discomfort, fatigue, and negative thinking with intentionality and ease. My hope is that some of the lessons learned on the run will find their way into other parts of your life as well."
Havey graduated with her master's degree in 2009 in the Sport and Exercise Psychology emphasis area and was advised by Prof. Diane Wiese-Bjornstal. She is currently teaching a Beginning Running class in the School's Physical Activity Program.