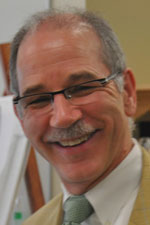 Jürgen Konczak, Ph.D., professor in the School of Kinesiology and director of the Human Sensorimotor Control Laboratory, is serving as senior personnel on a nearly $3 million training grant awarded by the National Science Foundation to develop and implement bold new graduate education in the STEM fields.
The award for the project, "Graduate Training Program in Sensory Science: Optimizing the Information Available for Mind and Brain," was granted jointly to the Center for Cognitive Sciences and the Center for Applied and Translational Sensory Sciences. The grant will enable the centers' teams to initiate a new interdisciplinary graduate training program that unites a fundamental understanding of basic sensory science (vision, audition, motor control, speech and language) with deep technical expertise in engineering, computer science, and other related fields. The project will explore the development of effective assistive technologies for people with sensory deficits that have a major impact on an individual's quality of life.
Konczak is a member of the faculty of the Center for Cognitive Sciences and director of the Center for Clinical Movement Science. Colleges providing support on the grant are the College of Education and Human Development, College of Liberal Arts, and College of Science and Engineering. More information about the award is available here.