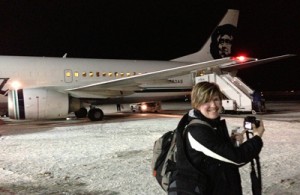 North of Sixty○ is a new collaborative program of the Learning Technologies Media Lab working with schools in regions north of 60 degrees latitude to tell their Arctic climate stories. Partner schools and communities in the Arctic regions, located in Finland, Norway, Russia, Canada, and the United States, are creating videos and other content online to share on the North of Sixty○ website.
The project team, led by professors Aaron Doering and Charles Miller, is preparing for an April expedition, traveling over 100 miles on skis, pulling pulks between two remote Inuit communities in Arctic Canada and visiting schools and community centers along the way. Expedition leader Aaron Doering emphasized that while education is the goal, safety is also of utmost importance to the team. which will be practicing training runs with full gear on the ice in Minnesota later this month.
Graduate students Matti Koivula and Jeni Henrickson (in photo) have already left for Alaska to visit schools and gather cultural information about different communities in Kotzebue and Noatak in the Northwest Arctic Borough, and in Kodiak and Karluk on Kodiak Island. They are also sharing their findings online.