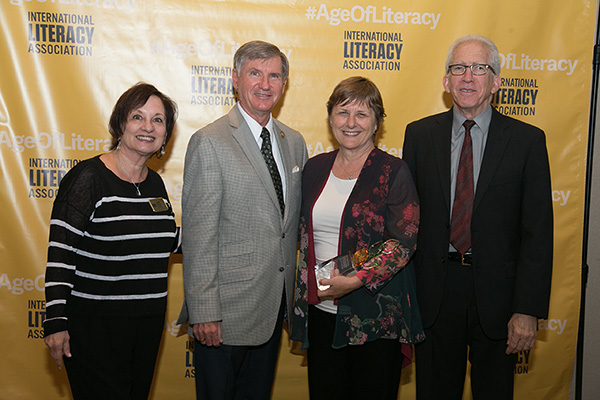 Lori Helman, associate professor in the Department of Curriculum & Instruction, was named the Jerry Johns Outstanding Teacher Educator in Reading at the International Literacy Association's annual conference in July.
The award honors an exceptional college or university professor in the field of reading education and is given annually to a member of ILA who is currently teaching preparation in reading to prospective educators at the undergraduate or graduate level. "An ideal recipient is considered to be a knowledgeable professional, an innovative teacher, a leader in the field of reading, a role model, and a disseminator," according to the association.
Helman's work in literacy in reading includes several endeavors. Most recently, she launched PRESS, a website featuring videos and tutorials that supports educators in implementing a framework for schoolwide literacy improvement. Helman also completed a a six-year longitudinal study of immigrant, bilingual students' language and literacy journeys and co-wrote Inclusive Literacy Teaching on her findings and the implications for education. She is currently working with bilingual and dual immersion schools to implement Spanish word study curriculum and serves as a member of the International Literacy Association's Standards 2017 Committee revising national standards for reading teachers and literacy professionals.
Helman's research and teaching at the University centers on topics such as literacy development in the elementary grades, effective instructional practices with multilingual learners, teacher development and leadership, and assessment and instruction to support aspiring readers K-6.
Learn more about the graduate programs and professional development opportunities offered in literacy education in the Department of Curriculum & Instruction.